Smok Nord 4 Pod Kit Review
Smok are back with their latest edition to the nord family. We love the predecessors, so its safe to say we've had pretty high expectations for the Nord 4. We'll be taking a look into how it vapes, whats changed and our overall opinion of it.
Lets talk a few specifics, here's a few details about the kit itself thats always handy to know.
All you need to know about the Smok Nord 4 Pod Kit:
Size: 33.7 x 24.4 x 104.9mm
Coil Resistance Range: 0.15ohm-2.5ohm
Capacity: 2ml
Output Wattage: 5W-80W
Charging Current: 1.1A(Max)
Battery Capacity: 2000mAh
Whats in the box of the Nord 4?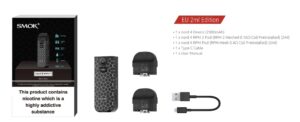 Whats new about the Smok Nord 4 Kit?
The main difference is the increased power output. This little powerhouse can fire up to 80W. However Smok have retained their ever-lasting simplistic take on Kits in an increasingly complicated industry; and we love that. The plug and play style of not just this Nord, but also the predecessors makes for a no faffing solution.
The design has been modernised. A Sleek, professional kit with all new colour profiles that really bring the Nord to life.

The device is available in 12 sleek colours that are Blue Grey Armor, Red Grey Armor, Rasta Green Armor, 7-Color Armor, Black Armor, White Armor, Fluid 7-Color, Fluid Black Grey, Leather Series (Brown, Red, Blue, Black) that gives perfect ergonomic feel whilst holding.
General Performance
With the ability to pull through 80W of power, the Nord is versatile and can accommodate to a wide range of vaping needs. From Sub ohm vaping with the coils that are provided in the box, or Mouth to lung (MTL) vaping with other RPM coils . This also means you can use Nic Salts which is a huge advantage to those who are looking to quit smoking.
The updated Nord Mouthpiece has been tweaked to better fit the contours of the lips, which makes for a more comfortable vaping experience. Additionally, two air control rings allow vapers to play around and find which settings suit them accordingly.
Let's talk flavour! So we used the infamous Aisu range, both trying a 3mg mix of Freebase nicotine and 20mg Nic salt so we could ensure that it performed well across the board. To put it simply, we weren't disappointed.
To power on the Nord it follows suit with most vape kits these days, just hit the fire button five times to switch on and the same to switch off.  There is an LED battery light indicator light on the button, press it twice and then a red, orange, or green light will appear.
Red light will on when battery power is lower than 30%
Orange light will on when power is between 30% to 70%
Green light will on when power is between 70% to 100%
The Nord 4 comes with 2 coils with 2 pods:
1 x Nord 4 RPM 2 Pod (RPM 2 Mesh 0.16ohm Coil Pre-installed)(2ml)
1 x Nord 4 RPM Pod (RPM Mesh 0.4ohm Coil Pre-installed)(2ml)
The 'plug and play' style of the RPM and RPM 2 pods allow for a diverse range of options when it comes to what style of vaping you want to achieve. Although sometimes it can be a little confusing between which coils fit which pod as they look so similar, it's as simple as the RPM 2 coils go with the RPM 2 pod and the RPM coils go with the RPM Pod. We know, hardly rocket science!
Hows the Battery Life?
The Nord 4 has an internal 2000mAh battery and we were pleasantly surprised with how long it lasted for us. A type-C charging port allows for full charge in under an hour, with the battery life easily lasting a day.
Overall
Smok just seem to be getting better and better and this latest addition to the Nord series isn't an exception. The most obvious advantage of the Nord 4 is its versatility between different vaping styles. The fact it can accommodate so many, makes it a real winner in our eyes. The updated design makes more aesthetically pleasing, the innovative mouthpiece makes the whole vaping experience better, and the flavour is second to none.
If you're a sub-ohm vaper and looking for big clouds, use the 0.16ohm coils on high watts and we can assure you that you will not be disappointed.
But I guess the question thats on everyones mind: Would we recommend the Smok Nord 4 to a friend? Yes, yes we would.
Disclaimer: Look, we know what you're thinking. How can a retailer publish a review and expect us to take it as gospel? The truth is we don't expect you to. We just want you to know we're not here to bullsh*t and grab a quick sale here and there. We're here to help you make better, more informed decisions to help you quit smoking. To accomplish this we pledge to offer you absolute honesty in all products we review. Keep your eyes peeled for more vape kit and E-liquid blogs coming soon!
_________________________________________________________________________________________
Need help with anything vape related or have a question about our products? Click the button in the bottom-right corner to chat with one of our UK-based vape experts and get real-time advice from our team.
_________________________________________________________________________________________