Absolution Juice E-liquid Review 50ml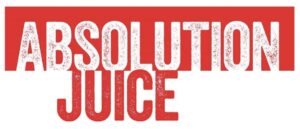 Absolution Juice isn't a new E-liquid to the market, but it's gaining on popularity and we wanted to share our views on it. As always throughout this review we'll be discussing the flavours, how it vapes and our overall thoughts on the E-liquid.
All you need to know: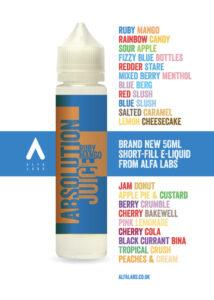 Made in the UK
0MG
50ml Shortfill
70VG/30PG mix
With 20 flavours available, Alfa Labs weren't messing about when they released this range.
The photo to the right shows their vast flavour range that is on offer. As a UK vape retailer, we love the fact that we can stock UK made E-liquids, and when they're as good as the Absolution Juice range it brings us great joy to be able to!
From Salted Caramel to Peaches & Cream, Alfa Labs have got you covered. The classic 70VG/30PG blend allows for good flavour production and is suitable for a variety of different devices and vaping styles.
Although there is a lot of flavours, we decided its only a fair review if we try all of them, right? Well at least thats what I told the boss! Money well spent in my eyes…
Top 6 Absolution Juice flavours:
Obviously this is all down to personal preference, but nonetheless we're pretty certain you'll find something for you within this range. We know what you're thinking, who on earth does a top 6? Look, there was just too many good ones in the bunch, you'll thank us later. But these were the standout flavours for us:
1. Salted Caramel: There is truly something special about combining sweet and savoury flavours that make them incredibly moreish. Nothing too intense, This classic combination will leave you yearning for more and more and…
2. Jam Donut: Oh my doughnut. The jammiest, tastiest doughnut you'll find. Both flavours perfectly balanced to bring a complimentary blend. It does what is says on the tin, tastes just like a Jam Donut.
3. Blue Slush: What can we say? It's the flavour of your favourite blue slushy drink! Ice cold, refreshing, fruity and full of nostalgia from those Summery months.
4. Fizzy Blue Bottles: Just like those fantastic fizzy blue cola bottle sweets. We couldn't believe how close of a match this was to the real thing.  We can only say try it and you'll know what we're talking about.
5. Pink Lemonade: A sweet, sharp and juicy lemon and pink grapefruit combo. We've always thought this is a difficult flavour to get right, but Absolution Juice have smashed it with this one. Well balanced between all flavours and the slightest of grapefruit notes on the exhale finishes it off nicely.
6. Peaches And Cream: The classic fruity combo of juicy peach and smooth sweet cream. We don't want to overreact, but this flavour is somewhat life changing. Just give it a try if peaches are your thing.
How does Absolution Juice 50ml Vape?
The 70VG/30PG blend allows for a strong and consistent flavour. We tried it on both low (20-30W) and high (60-80W) wattage and it performed well with both. We found as long as your airflow isn't completely open (maybe just two thirds of the way) on high watts, the flavour will be just the same as on low wattage.
The thing we liked the most from the Absolution juice range was how noticeably smooth they were. This is always such a huge factor when choosing an E-liquid. It can be the nicest flavour in the world but if it leaves you feeling like you've swallowed lego, it's obviously not going to be popular, right? So Alfa labs well done.
Our Overall Thoughts: 
To keep it simple, Alfa Labs have done a great job with the Absolution Juice 50ml range. Great quality, UK made E-liquids. Could we ask for any more? Well yes, we'd like to see them develop some specific ranges. Hopefully a bakery/biscuity style range and then maybe one that focuses on all things fruity.
Taste: 7.8/10
Flavour Range: 8/10
Smoothness: 8.5/10
Disclaimer: Look, we know what you're thinking. How can a retailer publish a review and expect us to take it as gospel? The truth is we don't expect you to. We just want you to know we're not here to bullsh*t and grab a quick sale here and there. We're here to help you make better, more informed decisions to help you quit smoking. To accomplish this we pledge to offer you absolute honesty in all products we review. Keep your eyes peeled for more vape kit and E-liquid blogs coming soon!
_________________________________________________________________________________________
Need help with anything vape related or have a question about our products? Click the button in the bottom-right corner to chat with one of our UK-based vape experts and get real-time advice from our team.
_________________________________________________________________________________________