20mg Vaptio Beco Bar Review
The 20mg Vaptio Beco Bar, is it any good? How does it perform? The disposable vape kit market is growing each day within the UK. Why are they so popular? Simply, they are the easiest way to try and quit smoking through vaping. No refills, no coil changes, no huge clouds and no nonsense.
The Beco Bar is a very simple vape kit, and has been designed for those who are looking for a hassle free vaping experience. It's boasts a light-weight, sleek design and is a disposable kit, thus meaning once you have consumed the E-liquid within the Beco Bar, you can simply dispose of the kit. Hence the name, disposable! Smart, we know.
The Beco bar has 11 flavours, including some absolute classics such as pink Lemonade and Mango Ice.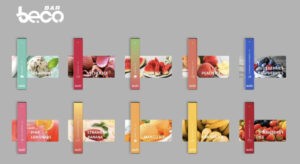 Flavour List:
Banana Ice: Ripe tropical bananas with a cool touch of ice.
Blueberry & Raspberry: Juicy blueberries and raspberries picked straight from the bush.
Lush Ice: Refreshing watermelon topped with ice.
Lychee Ice: Exotic lychee fruit with a cold, icy finish.
Mango Ice: Juicy, ripe mangos with ice.
Menthol Tobacco: Fresh menthol infused with classic tobacco.
Peach Ice: Sweet peaches and ice.
Pink Lemonade: Juicy red berries and lemonade.
Spearmint: Freshly picked spearmint.
Strawberry Banana: Ripe strawberries blended with tropical banana.
Strawberry Ice:Juicy strawberries with a refreshing touch of ice.
Key Features
Easy to use
Super Light-weight
11 Disposable Flavours Available
Perfect For New Vapers / Smokers who want to quit and smoke 12 or more cigarettes a day
Zero Vape Maintenance Required
20mg Nicotine Salts E-Liquid
Up to 300 puffs Per Device
Pretty cheap in comparison to other
What can you expect?
The Vaptio Beco Bar comes in a small Box, inside of which is the Beco Bar is silver wrap (which looks to be recyclable, but doesn't have the recycle logo on). And then you have the Bar itself, which has a plastic stopper either side which you can simply just pull off and the device is ready to go.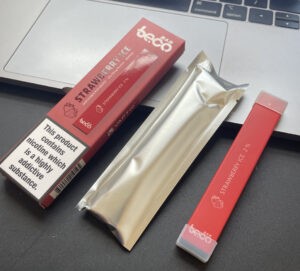 The kit is auto-draw, so there are no buttons to press in order to fire the device. As you open the kit you will be hit with a fruity waft of whatever flavour is inside. The smells of these kits as you open them hit you like a Yankee Candle, a super strong scent.
One thing is important to mention, the team at Vaptio have done really well with the design and overall feel of the Beco Bar. They have a sleek look and feel to them. If you're looking for something discreet, you're in the right place.
General Performance
I tested the Vaptio bars over a couple of days to test their longevity for a day-to-day vaping choice; and to be honest they faired a lot better than I had first expected. With only 1.3ml of E-liquid in each bar, I kind of imagined these would last a couple of hours max. But to my surprise, they faired pretty well. Obviously it completely depends on how much you vape. For some context, 300 puffs is the equivalent of a pack of cigarettes, so you can kind of work out how long these will last you.
The Vaptio Bar isn't so bad when it comes to leaking. Sometimes you find in these disposable vape kits the most common thing about them is their nature to leak E-liquid out the mouthpiece.
If you follow these simple steps with any Disposable kit it should help it stop leaking:
Keep it upright when not using it
Don't try to take 30 second hits
Avoid throwing at your mates
The only thing I noticed is with the autodraw, it's not as if you can take a really soft drag, you have to give some welly to get it going. But maybe i'm just being picky and trying to find something wrong. Either way I wanted make sure it was noted!
Flavour Profiles:
Props to the team at Vaptio, as they've done pretty bloody well with these flavours considering the nature of disposable pods. Even throughout the life of the kits the flavour remains very consistent, and its pretty easy to tell when the liquid has run out! The only one we thought there could be some improvement on is the Peach Ice flavour, its not bad just didn't seem to be as delicious as the others.
These are our the top 3 flavours:
Pink Lemonade: Just simply well done Vaptio, well done. Moreish to say the least.
Lush Ice: "This is how it feels to chew 5 gum" comes to mind when vaping this little refreshing number.
Lychee Ice: Fruity, summery and cooling. This just tastes of summer.
Would we recommend this over a conventional starter kit?
This is an interesting question as it really depends on who will be using it. If you're someone who is always busy, and haven't quit smoking because you haven't had time to even look into which starter kit to get, then yes we would.
However, if you've got a bit of time to have look at some refillable starter kits its worth it in the long run. And no, its not just because they're more expensive off the bat. They'll save you money in the long run and they're better for the environment.
Overall thoughts
I think it's pretty clear we're happy with this kit. The disposable vape kit market is getting more competitive by the day, so it's nice to see Vaptio have put quality at the forefront of their design ambitions.
"How could the Beco Bar be improved?" we hear you ask. We see no reason why they don't just up the E-liquid quantity to 2ml (the maximum that regulation allows) so that we can use them more! Obviously this would mean a slight increase in price, but it all works out when you can use it for 50% longer.
The feel is really nice, the flavours are good and the longevity of the pen also meets expectations. What more could you want?
_________________________________________________________________________________________
Need help with anything vape related or have a question about our products? Click the button in the bottom-right corner to chat with one of our UK-based vape experts and get real-time advice from our team.
_________________________________________________________________________________________
Disclaimer: Look, we know what you're thinking. How can a retailer publish a review and expect us to take it as gospel? The truth is we don't expect you to. We're here to help you make better, more informed decisions to help you quit smoking. To accomplish this we pledge to offer you absolute honesty in all products we review. Keep your eyes peeled for more vape kit and E-liquid blogs coming soon! Vaptio did not endorse or sponsor this review and were not involved with any of the opinions formed.