Uwell Whirl S Starter Kit Review
The Whirl S is Uwell's latest edition to their starter kit family, and as someone who uses smaller kits on a day to day basis I thought it was only right to give this a test. It would be rude not to, right?
Before we go into the review itself, let's go through a few of the technicals first.
Specifications:
Material: Stainless Steel, Quarta Glass
Size:Φ20mm*H122mm
Integrated 1450mAh Battery
Auto-draw or Button Vape
18W Maximum Wattage
2ml Tank E-Liquid Capacity
Easy Top Filling System
Mesh Coil For Great Flavor
Pro-FOCS Flavour Testing Technology
Child-lock of top cap (only for CRC version)
Coil lock Design
Adjustable Airflow – Enjoy RDL and MTL

What can you expect? 
The whirl S is an advancement on its predecessor, the Whirl AIO. The main difference is the overall appearance. A more sleek, professional design (in my humble opinion) has been taken. One of the first things I noticed was the fact it's charged by a USB-C cable, which doesn't seem like a big deal but anything thats charged via USB-C will nearly always charge fast than a standard mini USB cable.
It comes in 4 colour options (as pictured below) – and all come with a sharp looking stainless steel finish.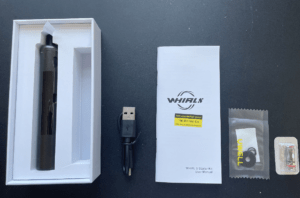 Whats in the box?
1 x Uwell Whirl S Starter Kit
1 x Uwell UN2 Meshed-H 0.8ohm Coil (Pre-install)
1 x Uwell UN2 Meshed-H 0.8ohm Coil
1 x Type-C Cable
1 x User Manual
Spare Parts
General Use
Let's talk battery life. Uwell have fitted this with a 1450mAh internal battery, which doesn't seem like much; but it holds up pretty well. A full charge seems to last me 3 to 4 days.  So overall, it's doing pretty well so far. Obviously with any new kit, the battery life at the start will be more proficient so it's always worth taking this into account.
The Whirl S boasts an easy filling mechanism, whilst also having a child safety protected fill. The Tank (or Pod) is magnetic, and pops in and out very easily from the main body of the kit itself.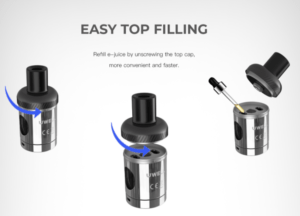 I think the only improvement I could suggest here is a push fill system, for me this is the only way to make this easier. Maybe its just personal preference or a slight bias because of what i'm used to! Nonetheless, the magnetic pod makes for a super easy pop in pop out style of Tank.
Another big plus of the Whirl S, is that i've experienced virtually zero leaking. As the coil gets a bit older (heading towards 2 weeks now on 20mg nic salts) you'll get some, but it doesn't seem to make a mess on the outside. With most kits, it's pretty likely that you'll get some kind of leaking and its pretty normal. However Uwell have done a sterling job with combatting this. The magnetic click in/out style of the coils means the there is little to no fiddling around with screwing in a new coil.
Let's talk coils
The UN2 Meshed-H 0.8ohm coil provide good flavour throughout their lifetime, we tested on both a 3mg mix of Freebase and a 20mg Nic Salt; and performed well with both. The Whirl S coils have Pro-FOCS flavour technology; and for such a small kit the flavour production was both full and consistent throughout.
Using a fruity 20mg Nic salt can be a bit of a gamble with coil longevity (or at least that seems to be the perception), but we tested a few different big brands in the 0.8ohm coil and its faired well. Each coil ended up lasting around 10 days, which under heavy use; i'm pretty impressed with. If you're someone with iron lungs, you'll undoubtedly get a more life out of these coils but i'm someone who prefers a smoother vape, and not sucking porridge out of a straw type hit.
At the moment there only seems to be the 0.8ohm coils; and although they seem to be well suited to a diverse range of vaping styles, I think releasing a few different options wouldn't hurt. Hopefully in the nearish future there will be some that come to the market!
Our Overall thoughts
Specifically for people looking for a smaller, starter kit; the Uwell Whirl S is a solid choice which is pretty easy to use, looks good and is a discreet kit. The main benefit is you can use both Nic Salts and Freebase Nicotine with it, and we really like it when kits are flexible. After all, it just makes things easier for everyone right?
A couple of things we really like:
Really impressed with the magnetic Pod/Tank – this allows for a fuss free click in and out which eliminates the worry of screwing in your tank straight or not.
Flavour production – Uwell are pretty well known for having kits that provide solid flavour, and the Whirl S is no exception to this rule
Look and feel – The design is slightly more 'grown up', albeit simpler than its predecessor. But it focuses on what someone who is quitting smoking would want, and for us thats the jackpot. Clean, nice feel and simple to use.
Quick charging, good battery life
A few improvements we would suggest:
More coil choice, give the people what they want!
More colour options would be good to see
Is this a good starter kit for quitting smoking? Yes.
Is this a good everyday kit for someone who wants a kit that can do a bit of everything? Yes.
Do you want to buy it? Yes. Buy the Uwell Whirl S here. 
_______________________________________________________________________________________________________
Need help with anything vape related or have a question about our products? Click the button in the bottom-right corner to chat with one of our UK-based vape experts and get real-time advice from our team.
_______________________________________________________________________________________________________
Disclaimer: Look, we know what you're thinking. How can a retailer publish a review and expect us to take it as gospel? The truth is we don't expect you to. We're here to help you make better, more informed decisions to help you quit smoking. To accomplish this we pledge to offer you absolute honesty in all products we review. Keep your eyes peeled for more vape kit and E-liquid blogs coming soon! Uwell did not endorse or sponsor this review and were not involved with any of the opinions formed.