Becoming more and more famous for their production of high-quality, yet very affordable e-liquids, Big Tasty have created an amazing range of flavour bases. These liquids are mixed and bottled in the UK, and provide incredible quality for just £9.99! This range combines fruit flavours with soda, mint and cream for a delicious layered vape.
The Big Tasty Range is a 70VG/30PG e-liquid, made to help with creating large clouds and delivering impressive flavour. It works best when paired with a sub-ohm kit.
Each of the 100ml Big Tasty shortfills comes in a 120ml bottle, leaving room for two 10ml nicotine shots. While this e-liquid doesn't contain nicotine, adding two 18mg nic shots will create 120ml of 3mg e-liquid. While this is still very smooth, if you prefer a slightly smoother throat hit, we'd recommend only one nic shot. See the bottom of this page for our Nicotine Guide.
All You Need To Know:
Made in the UK
0mg Nicotine
100ml of e-liquid
70VG/30PG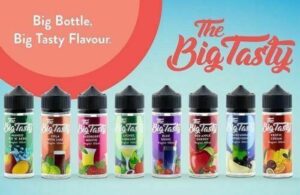 Flavour Profiles:
Blackcurrant Honeydew:
This e-liquid features rich, sweet honeydew melon blended seamlessly with bold blackcurrant flavours.A Ripe tasing melon, followed by a full dark blackberry taste which is sweet but also subtly tangy. Therefore, the two parts mix together to make an original, fruity flavour.
Blue Sonic:
This one provides all things fruity and very sweet. An amazing blend of blueberry and raspberry, thats perfectly balanced between tangy-ness with a very full flavour.
Blue Sonic shortfill e-liquid by The Big Tasty keeps things fruity and very sweet. This blend is a mix of blueberry and raspberry flavour, that is a little bit tangy and very strong. The berries do not overpower each other and provide a balanced taste.
Cola With Lime:
This unmistakably tasty cola e-liquid is piqued with a fresh zingy lime flavour. Cola with Lime Shortfill has been created by The Big Tasty to be a simple, yet surprising flavour range. A refreshing cola flavour comes in with subtle caramel undertones, blended with a perfectly hinted citrus zest. Therefore this makes it a true Summer 2020 E-liquid. A recommended  UK made Vape E-liquid.
Exotic Cream:
This short-fill e-liquid is an exotic fruit lover's dream. Exotic Cream 100ml Shortfill juice has been created by the E-liquid  guru's at the Big Tasty to provide a fruity blend. The E-liquid combines a subtle, yet moreish passionfruit and mango on the first inhale. Paired with a rich cream for a smooth finish.
Lychee Limeade:
In this Lychee Limeade e-liquid, the sweet lychee inhale has a subtle yet tangy lime after taste.Lychee Limeade E-liquid is an extremely well mixed combination of sweet and citrus flavours. Firstly on the inhale you are presented with a full, ripe tasting Lychee flavour. Then on the exhale, with a tangy limeade. Because of these flavour combinations, it creates a soda style UK made Vape e-liquid.
Mangoberg:
This mango flavour e-liquid is a modern classic meet ripe Asian mango. Mango Ice N Berg Shortfill is a different blend of flavours as to what you may already be used to. Starting with a sweet, tangy mango flavour which is followed by a sweet aniseed flavour. Above all, the tropical, summery mix of juice is rounder off by a hint of cool mint that refreshes the palette.
Raspberry Mojito:
This Raspberry Mojito 70 VG e-liquid by The Big Tasty features raspberry, garden mint and lime flavours with a subtle cool hit. Raspberry Mojito shortfill e-liquid by The Big Tasty is an original cocktail mix with a twist. Moreover, a full, sweet raspberry flavour is met with a soft mint for a fruity and summery combination. Because of the  Zingy lime zest creates a proper mojito tasting e-liquid
Red Apple Cherry:
Inspired by a popular drink, the Red Apple Cherry e-liquid is sure to provide an oasis of pleasure. Red Apple Cherry shortfill e-liquid by the Big Tasty combines both an edge of sharpess, with a wholesome sweet flavouring. The vibrant tasting red apple is obvious on the inhale, paired with a ripe, dark cherry on the exhale. The sweet and subtle sour undertones gives a flavouring of a fruity soft drink.
_______________________________________________________

Need help with anything vape related or have a question about our products? Click the button in the bottom-right corner to chat with one of our UK-based vape experts and get real-time advice by speaking to an actual human.
_______________________________________________________
The Vape.co.uk Nicotine Guide: 

Attention: Nicotine is an addictive substance. You must be over 18 to purchase from Vape.co.uk.
About Sub-Ohm Vaping:
Sub-ohm vaping uses coils with an Ohm resistance of less than one. It is an advanced style of vaping that uses higher vapour production and increased flavour. We recommend only using e-liquids with a VG of higher than 60% for sub-ohm vaping.