The Big Tasty E-liquids
Becoming more and more famous for their production of cheap, but high quality E-liquids Big Tasty have created an amazing range of flavour bases.
– Made in the UK
– 0mg Nicotine
– 100ml of e-liquid
– 70VG/30PG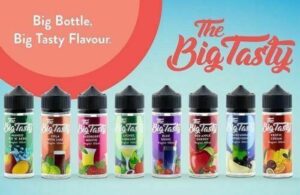 The Big Tasty shortfill Flavours:
Blackcurrant Honeydew
This Blackcurrant Honeydew E-Liquid features rich, sweet honeydew melon blended seamlessly with bold blackcurrant flavours.A Ripe tasing melon, followed by a full dark blackberry taste which is sweet but also subtly tangy. Therefore, the two parts mix together to make an original, fruity flavour.
Blue Sonic
Blue Sonic Shortfill E-liquid by The Big Tasty provides all things fruity and very sweet. An amazing blend of blueberry and raspberry, thats perfectly balanced between tangy-ness with a very full flavour.
Blue Sonic shortfill e-liquid by The Big Tasty keeps things fruity and very sweet. This blend is a mix of blueberry and raspberry flavour, that is a little bit tangy and very strong. The berries do not overpower each other and provide a balanced taste.
Cola With Lime
This unmistakably tasty cola e-liquid is piqued with a fresh zingy lime flavour. Cola with Lime Shortfill has been created by The Big Tasty to be a simple, yet surprising flavour range. A refreshing cola flavour comes in with subtle caramel undertones, blended with a perfectly hinted citrus zest. Therefore this makes it a true Summer 2020 E-liquid. A recommended  UK made Vape E-liquid.
Exotic Cream
This short-fill e-liquid is an exotic fruit lover's dream. Exotic Cream 100ml Shortfill juice has been created by the E-liquid  guru's at the Big Tasty to provide a fruity blend. The E-liquid combines a subtle, yet moreish passionfruit and mango on the first inhale. Paired with a rich cream for a smooth finish.
Lychee Limeade
In this Lychee Limeade e-liquid, the sweet lychee inhale has a subtle yet tangy lime after taste.Lychee Limeade E-liquid is an extremely well mixed combination of sweet and citrus flavours. Firstly on the inhale you are presented with a full, ripe tasting Lychee flavour. Then on the exhale, with a tangy limeade. Because of these flavour combinations, it creates a soda style UK made Vape e-liquid.
Mangoberg
This mango flavour e-liquid is a modern classic meet ripe Asian mango. Mango Ice N Berg Shortfill is a different blend of flavours as to what you may already be used to. Starting with a sweet, tangy mango flavour which is followed by a sweet aniseed flavour. Above all, the tropical, summery mix of juice is rounder off by a hint of cool mint that refreshes the palette.
Raspberry Mojito
This Raspberry Mojito 70 VG e-liquid by The Big Tasty features raspberry, garden mint and lime flavours with a subtle cool hit. Raspberry Mojito shortfill e-liquid by The Big Tasty is an original cocktail mix with a twist. Moreover, a full, sweet raspberry flavour is met with a soft mint for a fruity and summery combination. Because of the  Zingy lime zest creates a proper mojito tasting e-liquid
Red Apple Cherry
Inspired by a popular drink, the Red Apple Cherry e-liquid is sure to provide an oasis of pleasure. Red Apple Cherry shortfill e-liquid by the Big Tasty combines both an edge of sharpess, with a wholesome sweet flavouring. The vibrant tasting red apple is obvious on the inhale, paired with a ripe, dark cherry on the exhale. The sweet and subtle sour undertones gives a flavouring of a fruity soft drink.
Whats good to know about The Big Tasty E-liquid 100ml shortfills?
Lastly, The Big Tasty Range is a 70% VG e-liquid, it has been mixed for creating large clouds and delivering impressive flavour. It works best when paired with a sub ohm kit or tank, or with a rebuildable atomiser.
Each 100ml Big Tasty shortfill has room for two 10ml nicotine shots. While this is a 0mg e-liquid, adding two 18mg nic shots will create 120ml of 3mg e-liquid. If you prefer a slightly smoother throat hit, therefore we'd recommend only one nic shot.
Most importantly, The Big Tasty e-liquids are mixed and bottled in the UK and are providing some very high quality UK Vape liquids. In addition to this, the whole range is cheap at £9.99 only! In conclusion, this range combines fruit flavours with soda, mint and cream for a layered vape.