The VooPoo Drag S Mod Pod Kit is a kit perfect for intermediate to advanced vapers. The sleek and ergonomic design gives a professional yet compact feel to the kit. A built in 2500mAh battery provides a solution for all day vaping needs, and is capable of a 60 Watt maximum output. A variable wattage function allows a complete control over vapour production to create an easy individual vaping experience. It  comes with the 2ml Drag S Pods and use the popular VooPoo Pnp Coils.
The generous battery capacity and sleek design make the VooPoo Drag S a compact kit, perfect for an on the go vape. The use of 2A current charging allows for quicker recharging. The Gene.TT Chipset installed provides a ramp-up, but also recognises which style of coils are installed and will pick a recommended wattage accordingly.

The Drag S pods can be refilled and used multiple times, and includes an anti-leak filling system which makes refilling with your chosen E-liquid even easier. The extensive number of PnP Coils available means the Drag S Kit can be used with either high VG or high PG liquids; making it a very versatile kit.
All you need to know:
Size: 87*33*28mm
Power Range: 5-60W
Capacity: 2ml TPD Edition
Resistance Range: 0.1-3.0Ω
Output Voltage: 3.2-4.2V
Battery: 2500mAh(Built-in)
Material: Zinc Alloy +PCTG
Standard Coils: PnP-VM5 / PnP-VM1
Compatible Coils: All PnP coils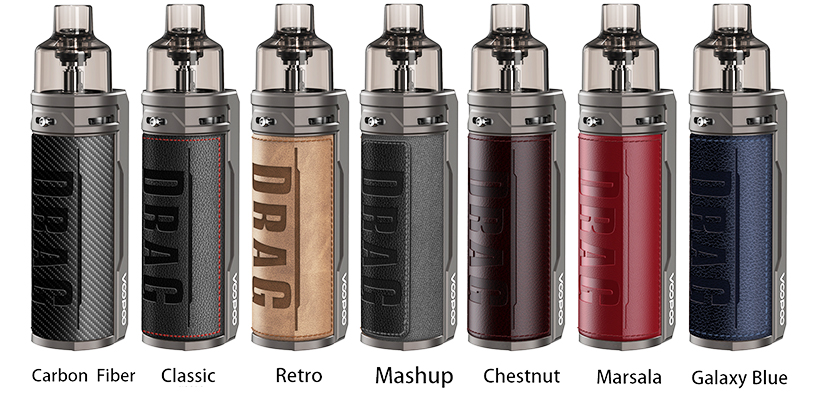 Whats in the box?
DRAG S Pod Mod Kit
DRAG S Pod (2ml TPD Edition)
PnP-VM5 0.2Ω
PnP-VM1 0.3Ω
User Manual
Type-C Cable
The VooPoo Drag S is easy to use, compact and customisable. Adjustable wattage allows you to vape to your needs. If you have any more questions for us please just use our online chat messaging system and you can speak to one of our UK Vaping experts.
Free UK Delivery available on this item.