The Voom Starter Pod Kit System by Voom Labs is a sleek and elegant device, designed with simplicity in mind, to make the vaping experience easier and more accessible than ever.
This ultra-portable device features an impressive 320mah battery, which can be charged in just 45 minutes using the included charging dock. A single charge can last for an estimated 3 days of normal usage (yes, that's right – one charge for 3 days of vaping); and this is just one of the many reasons why we think the Voom is the perfect vape starter kit.
Charge it on the go using the portable 1200mah charging box, which provides up to 4 full charges, and has an additional slot for your spare device.
It's simply one of the best pod vaping system on the market right now. A compact pod device designed to provide the simplest solution to vaping. Perfect for beginners who are looking for a no-nonsense Vape Kit.
The use of nic salts within the pods provides a perfect solution if you are looking to quit smoking.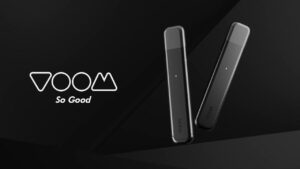 All You Need To Know:
Specifications:
Thickness: 0.72cm
Weight: 16g
320mah (device battery)
1200mah (docking station)
Box comes with:
Voom Pod Device x 1
Charging Docking Station x1
USB Cable x1
Pod x1
User Manual x1
Warranty Card x1
How Does the Voom Starter Kit Pod System Work?
You can find the Nic Salts pods here, and you just place them on the top of the device. The kit features automatic activation, which means there is no button you need to press when actually vaping. Once the pod is empty, it just has to be swapped with a new pod.
_______________________________________________________

Need help with anything vape related or have a question about our products? Click the button in the bottom-right corner to chat with one of our UK-based vape experts. Get real-time advice by speaking to an actual human.

_______________________________________________________