The GeekVape Aegis Max Zeus Kit is a newly designed Sub-ohm Vape kit that has a high power output with an impressive range of protections and functionality's. We'd recommend the Max Zeus to intermediate or advanced vapers due to its 100w output. It's powered by either a single 18650 or 20700 vape battery (which are sold separately due to safety regulations).
The Aegis Max Zeus is waterproof, dust-proof and shockproof meaning its perfect for vapers who don't want to be constantly worrying about a slight knock completely taking out their new kit. It also comes with the highly popular Geekvape Zeus Tank which has a 2ml E-liquid capacity, with improved vapour production.
Not just strong proctection, the Aegis Max also boasts an increased availability of customisation to suit your vaping needs thanks to the programmable output modes. The variable wattage setting will allow you to find the perfect level of vapour and flavour.
A temperature control setting also make full use of the impressive Zeus coil design, paired with ability to programme your power allows a vape which doesn't feel so harsh hitting. The all new Chipset within the device also includes fast start up and increased safety protection to avoid overheating.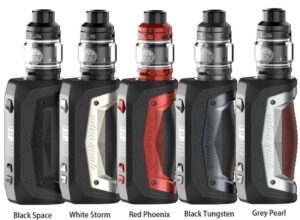 The Geekvape Aegis Zeus Max Vape Kit comes in 5 impressive colours.
All you need to know:
– Dimensions include: 93mm x 46.3mm x 34mm
– Battery: Single High Amp 21700 / 18650 Battery (Not Included)
– Wattage Output Range: 1W-100W
– Resistance Range: 0.05ohm-3.0ohm
– Capacity: 2ml
– Filling method: Top fill – Dual Fill Ports for easier and quicker refills
– Drip tip type: 810 Drip tip
– Resistance: 0.4ohm Mesh Z1 KA1 coil(60-70W); 0.2ohm Mesh Z2 KA1 coil(70-80W)(Pre- installed)
Due to the Aegis Zeus Max being a sub-ohm kit, we'd recommend using E-liquids of 60% VG or higher to provide as smooth vape hit as possible, you can check out our E-liquids here.
Whats in the Box?
– 1 x Aegis Max Mod
– 1 x USB Cable
– 1 x User manual
– 1 x Spare parts pack
– 1 x 18650 battery adapter
– 1 x Battery door assist tool
– 1 x Zeus Subohm Tank (Pre-installed: (Mesh Coil 0.2ohm, 70-80W, 2ml)
– 1 x Coil tool
– 1 x Spare glass tube (2ml)
– 1 x G Coil Zeus Formula (Mesh) Coil 0.4ohm, 60-70W)
Have any more questions for our team? No problem. Just use our online chat messaging system to speak to our UK Vape experts.
Free UK Delivery available on this item!