The Smok T-Storm Vape Kit features a 230W box mod and the TFV-Mini V2 EU tank that utilises the huge range of Baby V2 coils, providing fantastic flavour and huge clouds!
Powered by two 18650 batteries (get them here), the max output power of T-Storm is 230W, that will definitely last you through a whole day of vaping. A dual battery life indicator on the TFT screen provides an accurate reading, allowing you to keep track of your charging levels.
The T-Storm has a unique and comfortable design, coming with the TFV-Mini V2 coil to create an incredible sub-ohm vape kit that is easy to use and provides an excellent vape cloud production with intense flavour. This device is perfect for both new and experienced vapers.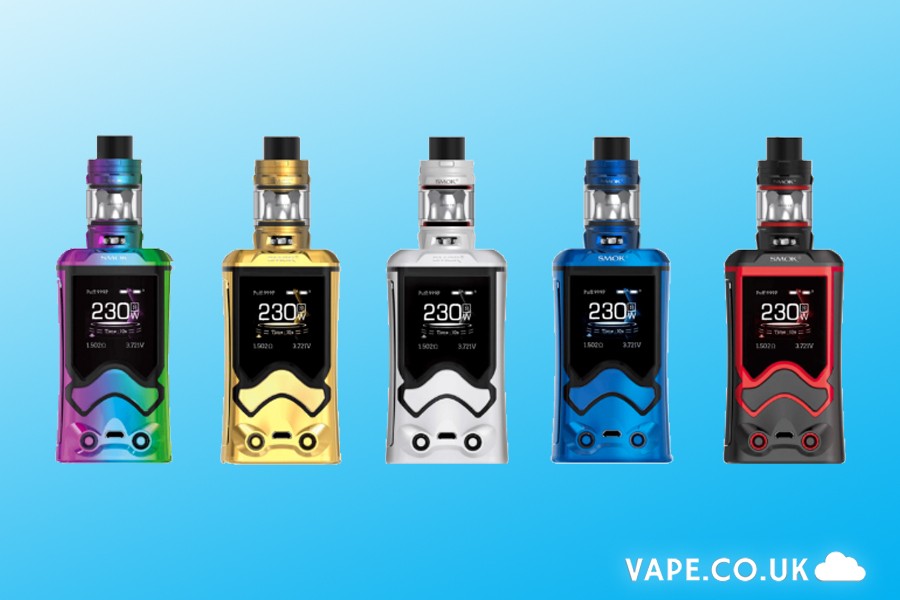 All You Need To Know: 
Maximum wattage: 230w
Resistance range: 0.1ohm – 2.5ohm
Battery compatibility: Dual 18650 (Not included)
Clear OLD Screen
Built-in protection features
VW, VV and TC control modes
Temperature control
SMOK TFV Mini V2 Tank
Top Fill
Bottom Airflow
2ml TPD Capacity
Takes MiniV2 Coils
How do you refill the SMOK T Storm Vape Kit?
What's In The Box?
T-Storm Mod
TFV-Mini V2 Tank (2ml)
Mini V2 A1 0.17Ω Single Coil(Pre-installed)
Mini V2 A2 0.2Ω Dual Coils
USB Cable
User Manual
Spare Parts
Which coils fit the SMOK T-Storm Kit?
_______________________________________________________

Need help with anything vape related or have a question about our products? Click the button in the bottom-right corner to chat with one of our UK-based vape experts and get real-time advice by speaking to an actual human.
_______________________________________________________
About Sub-Ohm Vaping:
Sub-ohm vaping uses coils with an Ohm resistance of less than one. It is an advanced style of vaping that uses higher vapour production and increased flavour. We recommend only using e-liquids with a VG of higher than 60% for sub-ohm vaping.